FINALLY, AFTER MONTHS of teasing, BMW has revealed its i8 Roadster, the two-seat, open-top version of its plug-hybrid sports car.
The i8 Roadster got its world debut at last week's Los Angeles Auto Show alongside the updated i8 Coupe. Both plug-in hybrid models feature further developed BMW eDrive technology, enabling longer range and more time in pure-electric mode.
The i8 features a mid-mounted 1.5-litre turbocharged three-cylinder petrol engine that drives the rear wheels, while an electronic motor controls the front wheels. The combustion engine is still rated at 231hp but the e-motor has had its output raised by 9 kW/12 hp to 105 kW/143 hp. The lithium-ion battery pack has been uprated from 20 to 34 Ah, with gross energy capacity up from 7.1 to 11.6 kWh.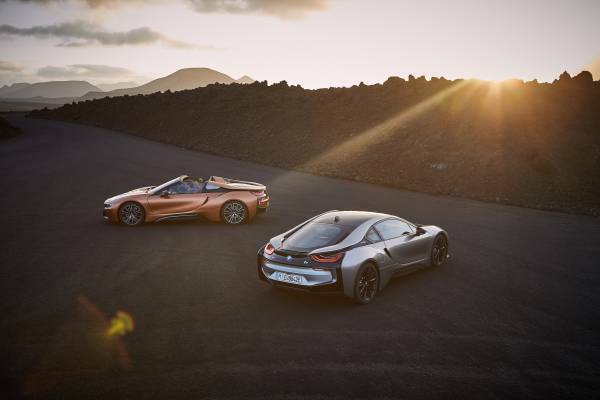 Source: BMW Media
Thanks to that extra 12hp in the e-motor, the total system output increases to 374hp, with the same 570Nm of peak torque cited.
Out on the road, this equates to a longer electric-only range of 53km (55km for the updated Coupe model as it is lighter). The previous model did 38km of zero emissions motoring on a single charge.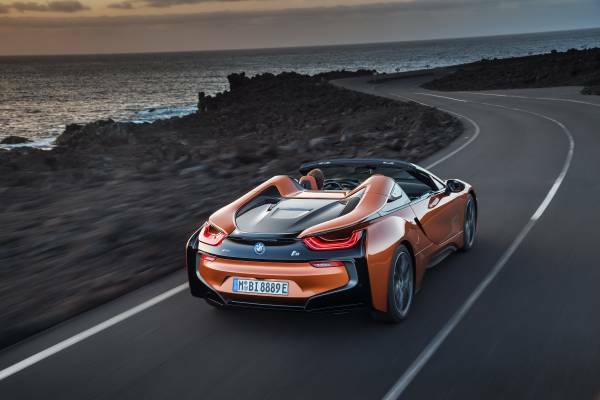 Source: BMW Media
Driving with the electric motor alone is possible at up to 105km/h (previously 70km/h) and pressing the eDrive button pushes the pure-electric driving threshold up to 120km/h.
The new Roadster is as economical as the previous Coupe with a combined petrol consumption of 2.1-litres/100km and the updated Coupe is now more economical at 1.9-litres/100km. CO2 emissions of 46g/km for the Roadster and 42g/km for the Coupe are both lower than the previous model which was 49g/km.
In terms of performance, the Roadster accelerates from 0-100km/h in 4.6 seconds and onto a top speed of 250km/h limited.
The Coupe can get from a standstill to 100km/h in just 4.4 seconds and also on to a limited top speed of 250km/h.
Since this is a convertible after all, let's take a minute to look at the roof. The soft-top, all-electric roof opens and closes at the touch of a button in 15 seconds and while travelling at up to 50 km/h. The roof stows away in a space-saving perpendicular position, creating 92 litres of additional storage space behind the seats.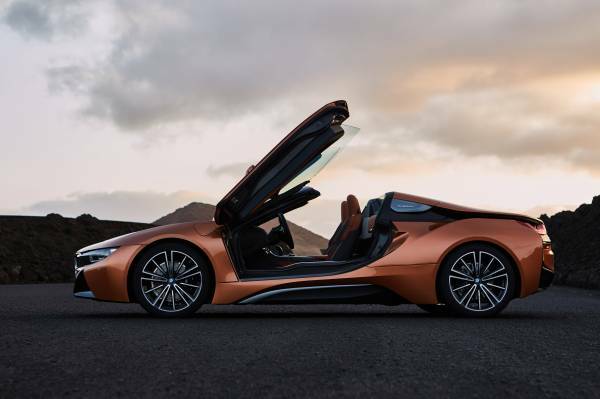 Source: BMW Media
The i8 Roadster gets model-specific tuning for the springs, damping and Dynamic Stability Control and both models come as standard with Dynamic Damper Control.
New colours are offered for both the Roadster and the Coupe, which are E-Copper metallic and Donington Grey metallic, while there are additional interior finishes too.
The new BMW i8 Roadster and Coupe will get their market launch in May 2018.
Source : http://www.thejournal.ie/bmw-i8-roadster-details-3728393-Dec2017/